Eating Canvas
jess Loseby
screen cHANGes every 45 seconds,
rssfeed updATes at least 1 x 24hrs
BROADBAND / high speed connections ONLY
Please hit F11.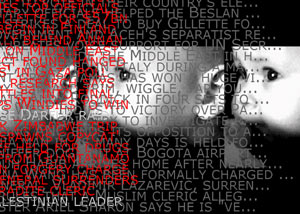 NB: This piece relies in external rss feeds outside the artist's control. If the rss feeds are down - so will be the artwork.
online canvas Requires java enabled browser and pop-ups allowed. IE recommended.
sound requires flash 7 plug-in
Credits:
This work would not have been possible without the assistance of ACE, the open source code "feed2js" of Alan Levine (Maricopa Community Colleges) and the continual support and enthusiasm of marc garret and ruth catlow.
+the loseby clan
with the support of